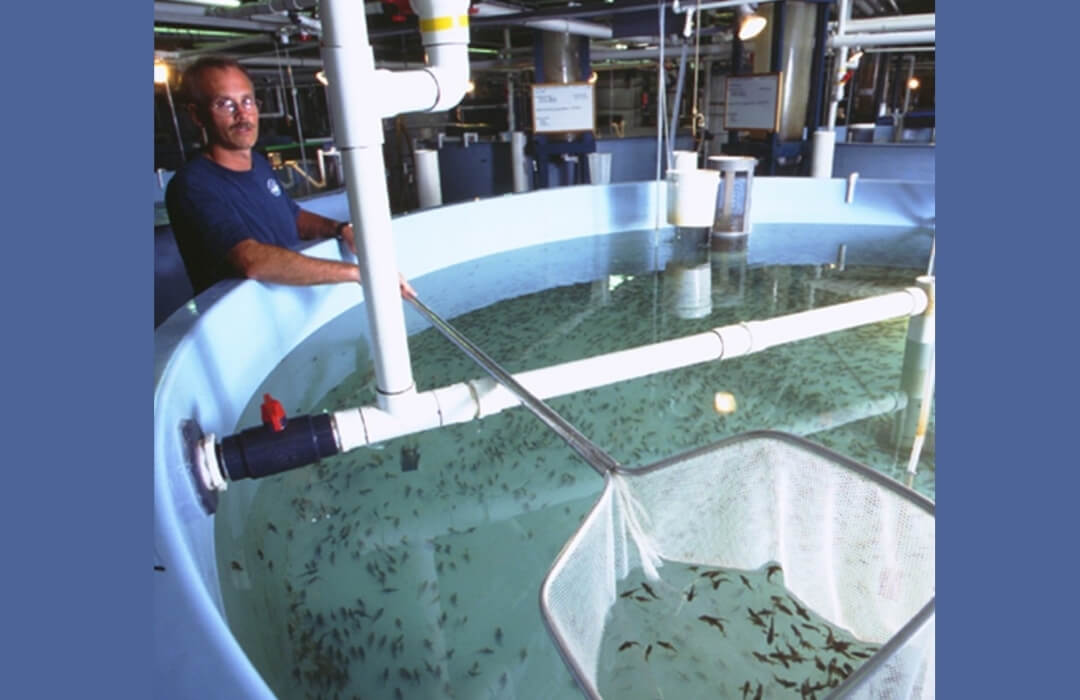 Making a Difference in Our Region
Each day thousands of commuters on Interstate 5 pass by the Agua Hedionda Lagoon in Carlsbad, CA, unaware of the unique and valuable scientific gem in their backyard. The Leon Raymond Hubbard, Jr., Marine Fish Hatchery, run by Hubbs-SeaWorld Research Institute is a one-of-a-kind premier aquaculture facility on the west coast.  
Headquartered in San Diego, CA, Hubbs-SeaWorld Research Institute (HSWRI) is a non-profit, scientific research organization committed to conserving and renewing marine life for a healthier planet. It's research, conservation and education programs are founded in good science, adhering to the highest standards of excellence for scientific research.
The Institute's mission is to "return to the sea some measure of the benefits derived from it". Since the early 1980's, HSWRI research teams and collaborators have been leaders in developing innovative fish replenishment solutions with no negative biological impacts. 
Enhancement of Ocean Resources
HSWRI and the Ocean Resources Enhancement and Hatchery Program (OREHP) investigates methods to counter the depletion of California's coastal marine fisheries by replenishing vulnerable species with hatchery-raised fish.
One at-risk species addressed is white seabass and their declining local populations. Since the program's first releases in 1986, HSWRI scientists have reared juvenile sea bass from miniscule eggs at their hatchery in Carlsbad, and released over two million juvenile sea bass, returning the fish into Southern California waters for the benefit of commercial and recreational fisheries. Data from these fish has been collected from the recovery of more than 1,200 tagged fish, including several fish that were at sea for more than 20 years. Recently HSWRI has been working to replenish California Halibut also.
Critical Fisheries Research
The hatchery facility, built on lagoon property in Carlsbad, California supports vital research for fisheries managers in the United States and globally. Breeding and raising fish are complicated processes, requiring both broad scientific knowledge, inventiveness, and an understanding of the sophisticated hatchery infrastructure required to maintain optimal environments for fish to thrive. 
OREHP is managed by the California Department of Fish and Wildlife (DFW) along with an advisory panel of academic and management agency scientists, and representatives from commercial and recreational fishing groups, and the aquaculture industry. This program is unique with the active involvement of volunteer groups, including fishing clubs and anglers, who help raise the fish to release size in nearshore grow-out facilities.
Help Us Feed the World
Your support helps to replenish local fish populations and provide economic value to American coastal communities.  For more information visit www.hswri.org