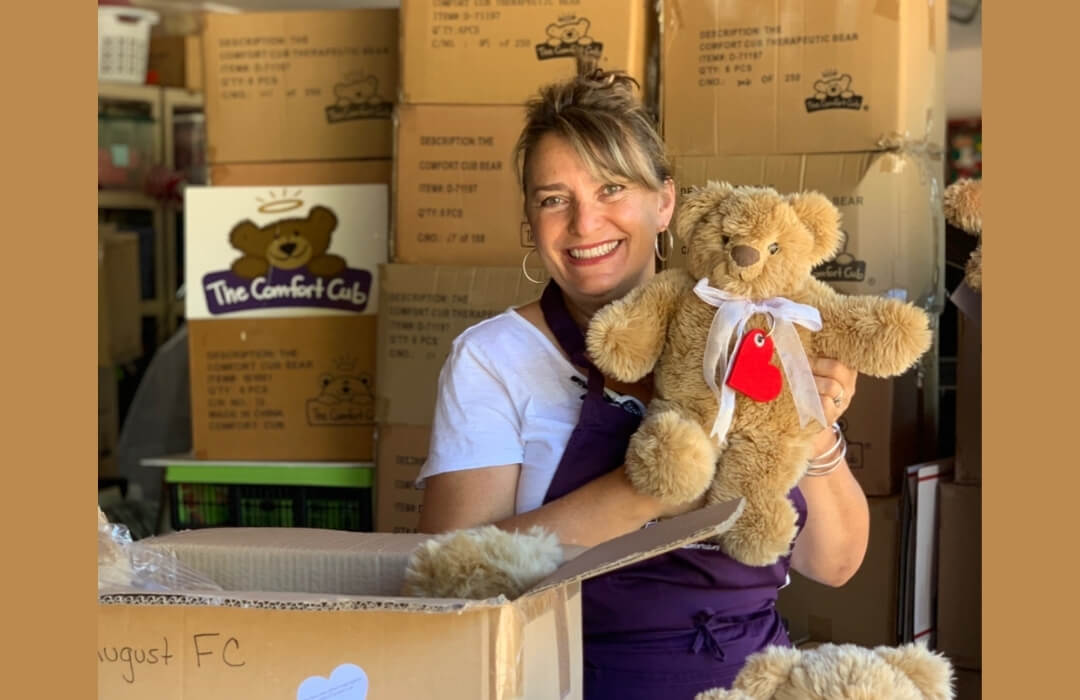 Hugging Onto Hope with The Comfort Cub
"We must embrace pain and burn it as fuel for our journey". — Kenji Miyazawa (1896-1933)
The death of a child is the deepest pain a parent could possibly endure. Olivenhain parents, Marcella and Matt Johnson know that pain. In 1999, their fourth child, their son George, passed away on the same day he was born.
Upon George's passing, Marcella experienced Takotsubo cardiomyopathy or 'Broken Heart Syndrome.' Marcella learned that holding onto a weighted object could possibly ease her pain. It worked. She thought if it worked for her it might help other grieving parents. In an effort to honor George, and to help ease the suffering of others, Marcella founded The Comfort Cub, a non-profit organization that delivers weighted teddy bears to victims of grief, trauma and depression.
The Comfort Cub has delivered more than 20,000 cubs and touched more than 60,000 lives. Marcella says, "As soon as we started to realize the science behind the weight of The Comfort Cub and how deep touch pressure can help to reduce anxiety and stress we started branching out into different areas. Our first outreach was to the victim's families of Sandy Hook. The cubs were so well received that the school contacted us for more Comfort Cubs for their teachers who had lost students and for the parents of the two young teachers who were also killed."
The Comfort Cub partners with the San Diego Police Department, Palomar Hospital and the San Diego District Attorney's office to help victims experiencing trauma. The cubs are also used at several elementary, middle, and high schools in the counseling and nurse's offices.
The Comfort Cub is also receiving more requests due to the isolation, loneliness, and depression brought on by COVID-19. Marcella says, "It seems most people are now familiar with the science and physical benefits behind a weighted blanket which reduces stress by causing the body to release dopamine, serotonin, and oxytocin. We like to say that The Comfort Cub is like a weighted blanket that you can take with you wherever you go!"
Marcella urges anyone in need of a hug from The Comfort Cub to reach out. For more information, visit www.TheComfortCub.org