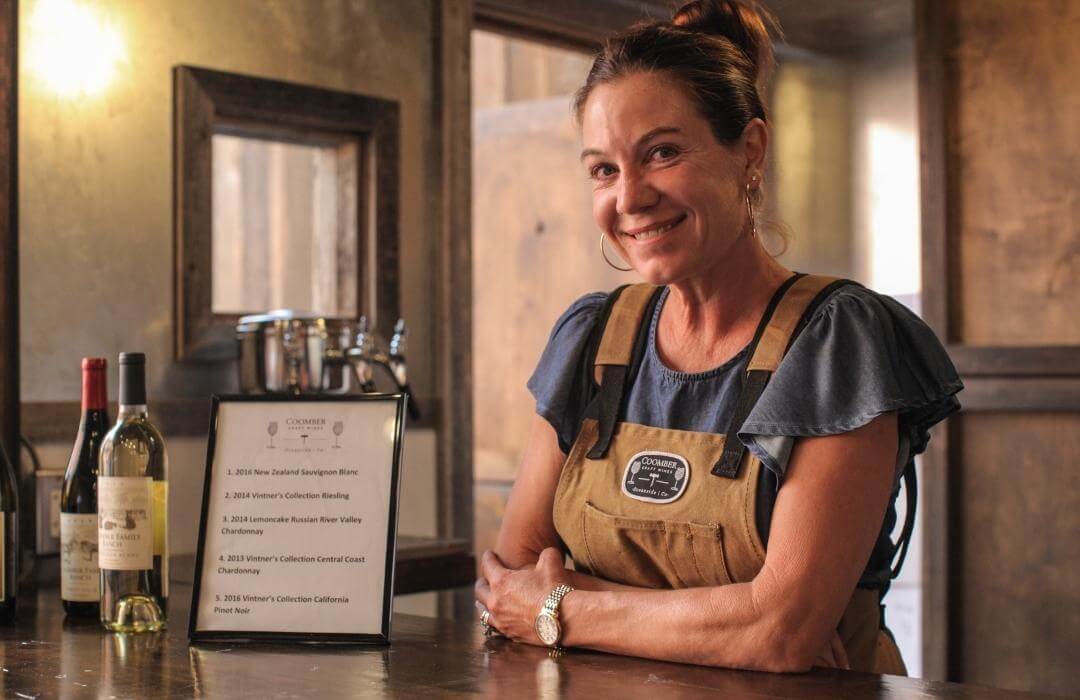 Mom Launches her Own Family Wine Label & Tasting Room
"Love Life" is a theme that can be viewed from several different angles; love your life, your romantic love life, and loving life. Our story, featuring Maureen and Skip Coomber of Coomber Family Wines, is a blend of all three. In our interview with Maureen, she shares their story of building a family business around passion. She shares her love for family, a love for wine and a love for her local community. Her interview can be heard on MomsTown365, The Daily Podcast for Mom Creators, by clicking below.
In the meantime, here's an excerpt from our conversation…
Q: Tell us a little bit about yourself. Who are Maureen and Skip Coomber?
A: Maureen and Skip Coomber are north County residents since 1995.  We are the parents of two daughters, 22 and 24.  We are animal and wine lovers.  We also love our daughters…and each other. 
Q: Why did you want to start your own wine business?
A: We invested in a winery in Santa Barbara county and began making wine for ourselves.  We made wine in the style that we like, big and bold.  We were able to purchase very good grapes and our wine turned out to be very highly rated.  Our first rating was from Wine Enthusiast, which awarded it a 95.  Bertrand Hug of Mille Fleurs and Bertrand at Mr. A's really liked that wine and asked if we would allow him to sell our wine.  So, we got our California Alcohol and Beverage Commission "Wine Grower's License" so that we could legally sell our wine to businesses and to individuals.  As time went by we dreamt of being able to meet the people that were drinking our wine and we started looking for a place to open a wine tasting room.  The coastal cities turned out to be pretty tough to work with, as they didn't differentiate wineries from bars.  Fortunately, Oceanside found out we were looking for a location and asked that we locate in downtown Oceanside.  They made it incredibly easy for us.  Now, we get to be true hosts and welcome guests into our winery and tasting room. 
Q:  Starting a wine business sounds very romantic. How did you go about getting started?
A: It all started because we grew to love wine after taking our first trip together to Napa.  So, when we had the opportunity to invest in a winery we didn't hesitate.  Our dreams have truly been answered with our winery where we have live music on our safe covered patio 7 nights a week. 
Q: What has been the best part about starting and running your own wine label?
A:  We have 5 different wine labels that we have designed ourselves.  Seeing our wines in a store or on the menu in a restaurant was something that always made us feel great.  But, ultimately, the best part is getting to pour our wine for our 350 wine club members.  There is a great deal of effort that goes into choosing grapes, barrels, bottles, corks and capsules. There are many hard decisions to make.  After all of that effort sitting back and watching people truly enjoy your wine is sort of the coup de gras.   
Q: What has been the greatest challenge with running your own wine business?
A:  The greatest challenge to running our wine business was finding a coastal city that understood that guests at a winery are not the same people who go to a standalone bar.  Oceanside understood that and welcomed us with open arms.  We were able to open our doors to the public 5 months after turning in our application to the City.  Oceanside has told us repeatedly that they are so happy that we opened there, as we have brought in a sophisticated clientele that also supported other downtown Oceanside businesses. 
Q: Tell us about the wine tasting rooms.
A:  Our wine tasting room is often described by our guests and wine club members as very welcoming.  Most of the inside is built from repurposed wood and steel.  We like to describe it as "industrial elegant" as we have exposed the original 1944 brick walls, yet, we have oriental rugs throughout to soften the feel and sound.  We have paid particular attention to details, ensuring that the guests not only enjoy award-winning wines, but have a memorable experience.  Our back doors open up onto our spacious outdoor covered patio where we have live music performances 7 nights a week.  We have had the opportunity to bring in very well-known local bands, as there are limited opportunities for them to perform, given Covid.  In addition to the beautiful bar inside the winery we have a second wine tasting bar on the patio so that guests are never very far from their next taste of wine.  There are three fantastic restaurants across the street that happily deliver their food to the table of our guests.  So, our guests have the benefit of three quality kitchens, not just one.  Also, our guests are more than welcome to bring in their own food and have a sort of picnic while enjoying wine tasting and live music.  As a winery, children are allowed and we also welcome well-behaved dogs. 
Q: You also have a wine club?
A: We have been very fortunate to be so well received by wine lovers in north County.  After only a year and a half we have over 350 wine club members.  We spent a great deal of time developing the different wine club options so that there is generally a suitable choice for anyone who loves wine.  In addition, to the expected discount on wine, our members are invited to come to a free monthly "members only" event at which we provide entertainment and significant wine sampling while they get to know their fellow members. 
Q: What do you want people to know about your wines?
A: Our wines all reflect our love for California-style wines, meaning that they are bold and fruit-driven. We almost always have over 20 different choices of wine in a rotating selection, including Chardonnay, Pinot Noir, Cabernet Sauvignon, Zinfandel, Pinot Grigio, Merlot, (dry) Riesling, Sauvignon Blanc, Malbec and Gewurztraminer.  We also have a sustainability program where we have three or four different wines that we have put into kegs and serve from a spigot, rather than put into wine bottles. 
Q: Which wine is your personal favorite?
A: People often ask me what my favorite wine is.  The answer is always dependent upon the situation.  With a big steak dinner I prefer a bold Cabernet Sauvignon.  With Thanksgiving dinner I prefer a medium-body Pinot Noir.  With sushi!  I absolutely adore dry Riesling, which is surprising to people until they try it.  Summertime by the pool-a sauvignon blanc or pinot grigio.
Q: What is your favorite meal to serve with your wine?
A:
Q: Do you have any special wine tips for our readers?
A:  Experiment!  Go to a winery where you can taste many different wines.  Every day we see people who are amazed that they like a type of wine that they thought they would not.  Our dry Riesling is a perfect example.  Everyone assumes that all Rieslings are very sweet.  However, when they try our dry Riesling they are amazed.  Beer drinkers?  "Oh, I don't like wine."  That attitude changes after they try a Rose or dry Riesling. 
Q: What tips do you have for moms who are dreaming of turning their own passion into a business.
A: For moms interested in dreaming of turning their passion into a business, you're not going to like my answer.  But, you may benefit from it. 
The answer is, "Proceed with caution!" 
I'd love to tell you that you can't lose if you pursue your passion.  However, business is very competitive.  We all read about incredibly successful female entrepreneurs, like the woman who invented Spanx.  However, we don't read about the thousands of women who have failed for each of those extremely successful ones.  Remember, for an entrepreneur "twelve hours is a half day."
The truth is, we would not be successful without the help of our consultant who we eventually persuaded to stay and manage our business. 
Talk to owners of like businesses and try to get their advice and benefit from their experience.  You'll be amazed at how eager they will be to share information with you, and even to mentor you. 
I would also suggest that if you can't hire a consultant, you should go and get a job in the industry that you are interested in pursuing before you invest money into your own business. 
It's sad to say that one's passion can be lost in a P&L sheet.  We see so many people who lack the experience and knowledge and end up making a big mistake.
Listen: https://momstown-inc-25ead185.simplecast.com/episodes/maureen-coomber-coomber-family-wines