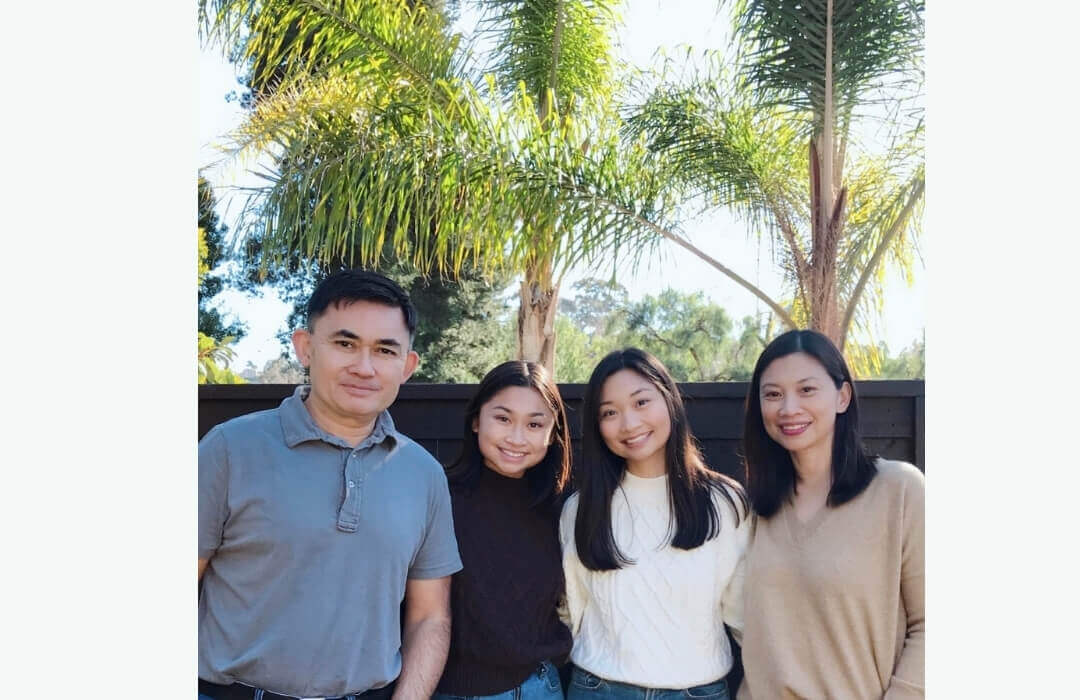 Mom and Artist – Purita Sy-Quia: Mesmerizes Us with Her Art
When you first discover these images are paintings you can't believe it. The detail is incredibly intricate. When the shock of learning the images are paintings starts to subside, you feel yourself being drawn into the canvas. The artist, Purita Sy-Quia, is a Carlsbad mom with an international following. We're lucky to have her in our community and we wanted to share her story with you.
Q: Purita, will you please tell us a little about yourself?
A: I am the youngest of four children. I was born and raised In Manila,
Philippines. I got married when I was 27-years-old and moved to New York in 1994 with my husband. We then moved to Cincinnati, OH where my two girls were born.  After 12 years there, we moved here to Carlsbad. My oldest, Jamie, is now 25 and lives in Los Angeles. My youngest, Ana, is 21 and is a senior in college. Although I've occasionally painted professionally throughout the years, I've been fortunate enough to be able to devote most, if not all, of my time to being what I love most… a mom.
Q: How and when did you start painting? When did it become more than a hobby?
A: I can't remember a time when I didn't want to draw or paint. Although
she didn't do it professionally, my mother was a prolific artist and an art collector. I was surrounded with art all my life. Sometime in college, I started focusing on portraits just for fun. A friend commissioned a painting after seeing a portrait I had painted of
my grandmother. That's how it all started. I was, at first, unsure about painting professionally but my mother encouraged me to pursue it. I have my mom to thank for always believing in me and encouraging me.
Q: How many paintings have you been commissioned to paint?
A: Oh, a LOT! I've been painting off and on since I was 20 years old.
Q: It must be gratifying. How does it make you feel when you sell a painting?
A: It is gratifying for sure but it's always bittersweet to part with my paintings. I think most artists know exactly how I feel. You get used to it after a while, but because we pour ourselves into our paintings, it truly is a piece of ourselves.
Q: How would you describe your style of art?
A: Although I've dabbled in abstract and impressionism in the past, my current focus and interest is now hyper-realism.
Q: Where do you get your inspiration?
I get it everywhere really. I follow many artists and I am constantly
perusing Instagram and other media outlets. I get a lot of my inspiration from artists around the world especially Filipino artists. With technology, we are fortunate nowadays to be able to get inspiration and learn from different artists anywhere anytime.
Q: How much time goes into each piece?
A: I wish I could say just a few days! But because my style is very
detailed and requires a lot of time, one painting usually takes at least a month.
Q: Your artwork is mesmerizing. It is so detailed and hard to imagine
that it is all done by hand! How do you do it!?
A: Oh thank you for your kind words. I just really enjoy it!  When I
paint, I quickly slip into the zone and lose track of time.  I'm a bit of a perfectionist and love doing detailed work.
Q: What type of materials and supplies do you use?
A: I work almost exclusively with oil on canvas. I like both Gamblin and Windsor & Newton oil paints. I keep things pretty basic. I use walnut oil if I need to make my paint more fluid and Gamsol mineral spirits to thin my paint and clean my brushes. To achieve all the detail, I use really small fine brushes. I wear them out pretty quickly and go through a lot of brushes for each painting. Once the paint is completely dry, I always put a couple of layers of Gamvar satin varnish to finish it off.
Q: What do you see as the future for your artwork? What's your vision?
A: Now that I have more time to myself, I just want to keep having fun
painting. Fortunately, I have a lot of commissions lined up now. I also just started producing and selling archival " limited edition" prints of a select few of my paintings. They are reproductions using the highest quality fine art printing method. I do not
mass produce my paintings and only sell 10 prints of each. Aside from wanting to be able to share my work with more people, I wanted my two girls to have a piece of me by saving a print for each of them.
Q: What tips would you offer other aspiring mom creators/artists?
A: Just keep painting! Have fun but like most things, painting requires
practice and discipline.  Remember that art is subjective and you will not please everyone… so paint what makes you happy!
Q: How could someone purchase a painting?
A: Most of my paintings are commissioned. All original paintings that I have done are with their respective owners now. I do, however, have signed archival "limited edition fine art prints" for sale. If you are interested in having a painting commissioned or would like to acquire a print, please contact me directly by calling or texting me at
( 760 ) 216-9092 or emailing me at [email protected]