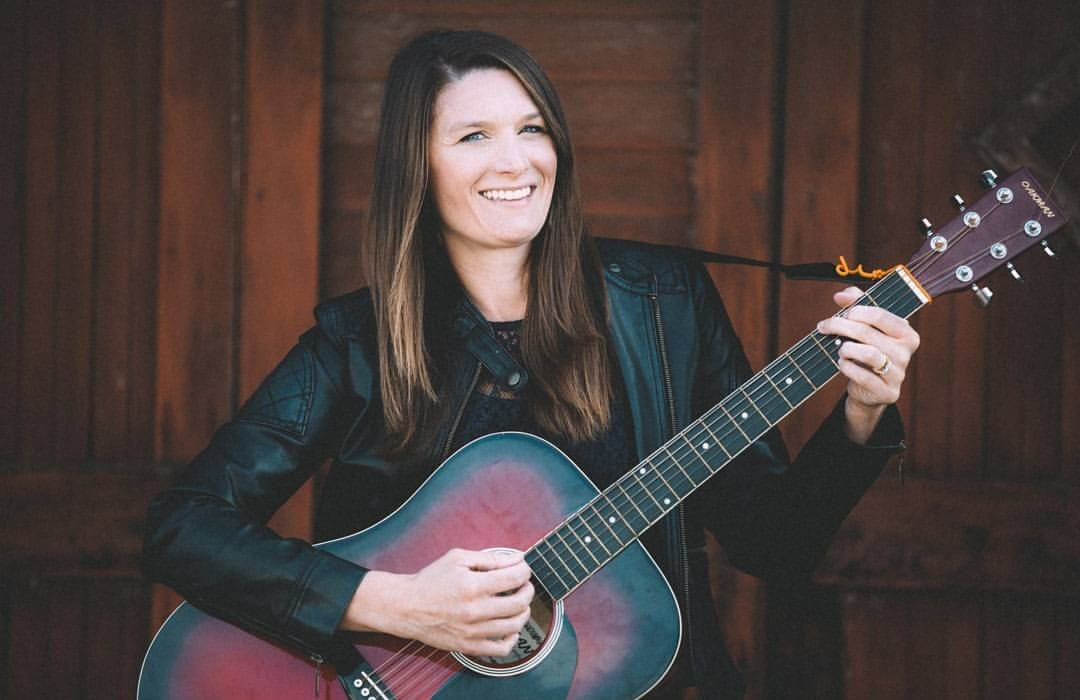 Mom, Pre-School Teacher, & Award-Winning Children's Author
We recently received the sweetest email. It came from Carlsbad resident, Graham Sibley. It turns out Sibley has a sibling that he thought we all should know about. Here's what he wrote:
My sister is amazing — she is an award-winning children's author, a wife and mother of two boys attending online and in person and a most gifted musician.
This past year has been super challenging for all mother's I know!  Watching Ashley juggle it all and launch a music career has been so inspiring. When the lockdown started she was offering kids music lessons everyday on her Instagram, she has done all her own PR, she has released music, directed and edited her own music videos on top of her husband having three surgeries on his back and hips.  All with dinner on the table and making sure her kids are thriving.
Of course, we had to know her! So, without further adieu…
Q: Who is Graham's sister?
A: My name is Ashley Mills Monaghan and I am a mom, a wife, a preschool teacher, an award winning children's author and a musician. I learned the piano early on and continued throughout college. I picked up a guitar at 16 and have been writing songs ever since. Secretly. I've always wanted to be a recording artist but I didn't think I could do it. Like so many creative people, I have a lot of self doubt that I'm ready to let go of. And I want to help our children do the same.
While earning my post graduate degree in early childhood development in Ireland,  I started to realize that the kids suffered from the same doubt and insecurities I saw in myself. Now, years later, I see it again in my current preschoolers as well as our own two sons at home.  I hear things like 'I can't do it' or 'I don't think I can.'
The truth is, I get it.  I understand that kind of doubt and fear.  But hearing children – especially my own children – express such a serious lack of self-confidence was heartbreaking to me. It changed me and I started writing songs about it. This has opened me up to write many other empowering songs for kids about self love, kindness, coping with heavy feelings and sharing good times with the ones you love. All themes that I think now – especially now, after a year living through a pandemic, is what we need to share with our children.
Q: HOW DID YOU GET STARTED IN THE MUSIC INDUSTRY?
A: My children's album was actually a total accident. Two summers ago I reached out to Kevin Burnstein, an old friend of mine from Chapman University, who was pursuing music production and we were working on completing an EP of some songs I wrote inspired by some serious life stuff I recently went through. In one of our recording sessions I shared one of my children's songs with him and that day we recorded 'Wiggles.' We knew we were making something special. Because of some success I had with my first children's book, it made sense to use that as a launching point to start sharing some songs I had written for the children's space and so the direction for my music changed course. Now, more than anything, I want to inspire and empower young children through my music.
Q: HOW DID YOU COME UP WITH THE IDEA TO CREATE YOUR BIZ?
A: Over the last several years, when I wasn't in the classroom or home with my kids, I was busy touring around with my children's book, 'A Little Goes a Long Way,' sharing it at book festivals, schools, museums and libraries. Being in front of young audiences was so fun for me. Using my own experiences as a mother, my own songs written for the children in the classroom over the years and being inspired by my own children has given me a lot of material to play with. I want our children to know they can do anything if they tell themselves they can. I also want them to know that their heavy feelings are okay and they are loved no matter what.
Q: WHAT HAS BEEN RESPONSE TO YOUR MUSIC?
A: Last summer, we decided to release 'Wiggles' as a single and part of the release was a music video we put together. We invited friends, family and fans from all over the country to send in their 'wiggles' to be part of the video and it was so lovely to be part of a project that brought people together during a time where we had to stay apart due to COVID. After the launch of the song and video, we released two more songs from the album and it's been a wild ride. I've been invited to be on popular YouTube shows and podcasts, my songs have been used on TikTok videos, top 20 lists for radio play, and I was labeled 'the one to watch' by the Digital Journal. Sometimes I'll even get texts and videos of friends and fans of their children dancing and using my music.  As an artist that suffers from self doubt, those messages are very meaningful for me.
Q:  BEST THING TO COME FROM YOUR MUSIC BUSINESS?
A: I think empowering young children with strong messages of love and kindness is something I'm most proud of. But personally, the best thing has been coming full circle and overcoming fear — telling myself I CAN by just going out there everyday pursuing my dream and DOING it. Like many of your readers, I have had to overcome a lot in the last year and I will continue to fall from time to time but what this experience is giving me is some confidence to overcome my own fears and be a better example for my children by letting them know you can do anything if you tell yourself you can.
Q: WHAT TIPS DO YOU HAVE FOR OTHER MOMS?
A: We live in such a fast paced world and watching our children navigate through it sometimes feels uneasy. Pursuing my true passion not only feels satisfying for my own soul but I hope I am modeling some good for my children. I think that if you have a creative idea for a business, let go of your fears. Make a plan. Be smart. But go after it. Utilize all that we have now in our ever changing technological savvy world but connect with PEOPLE first — let's not forget that we create to connect.
Q: HOW CAN MOMS FIND YOU ONLINE & HOW CAN WE SUPPORT YOUR MISSION?
Although we have the album written, we still need some help to finish it! Please consider making a donation and help us with our crowdfunding campaign this summer. You can always visit my website at www.ashleymillsmonaghan.com for some fun recipes, activities, downloads and videos for your kids as well as show dates. You can also follow me on Instagram @ashleymillsmonaghan and message me – I would love to connect with you! I am so grateful I get to empower children through my music. Perhaps I can empower other moms to go after their dreams too. We can do this!