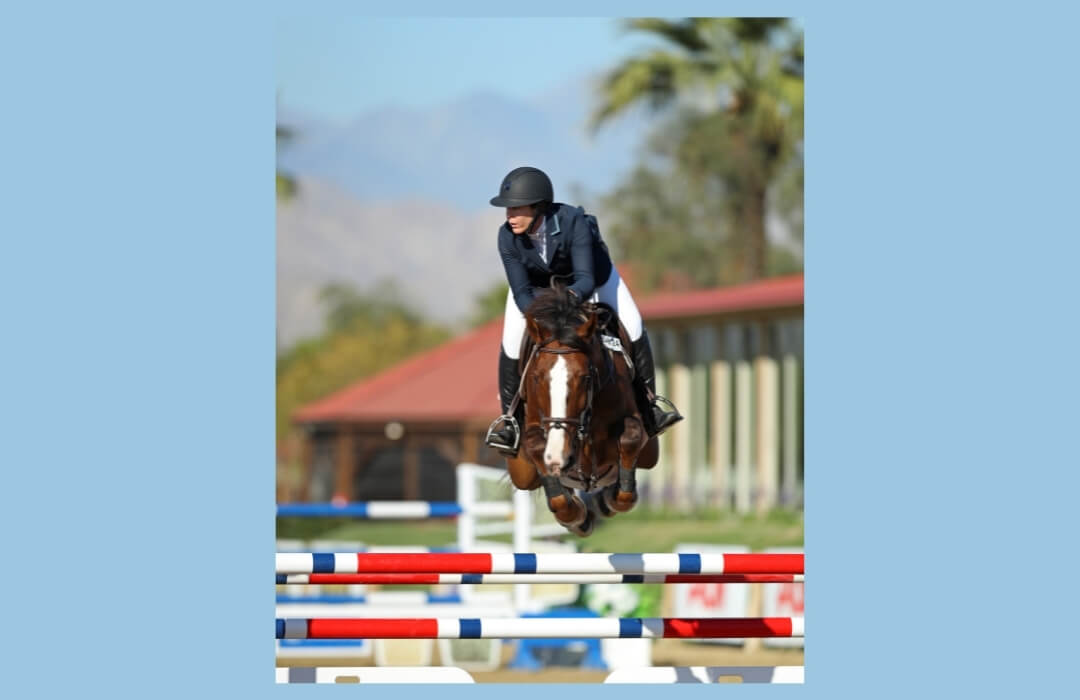 How Emily Turned Her Love for Horses into a Show Jumping Career
Busy Mom is Riding High
Equestrian and competitor, Emily Esau Williams is riding high these days. Her business is expanding and she is training and riding a talented horse named Dandy. "He's a competitor. He wants to win as much as I do." Emily and her partner, Dandy, are winning. They're clearing five-foot jumps and challenging their competitors with grit, grace and style.
Emily, owner of EE Show Stable, competes at the Grand Prix level, which is the highest national level for hunter/jumpers. Emily also trains horses and gives riding lessons to junior and amateur riders. In fact, just before we went to press, Emily and her business partner, Dayle Fischer, announced they are opening their barn doors on new soil. EE Show Stable is relocating to Dove Hollow in Olivenhain. Emily has 35 horses in training and a clientele of about 70% kids and 30% adults. The new barn, Emily says, will give her and Dayle the room needed to expand their business.
Surrounded by horses, Emily grew up in Encinitas on her family's ranch. Her parents, Chuck and Lindy Esau, were both professionals in the equestrian world. After attending the University of San Diego, Emily said she discovered her love of teaching riders from her dad. Today, Emily keeps a firm grip on the reins of the family legacy while building her own equestrian program. Emily, her husband, Nick Williams and son, Wyatt, call San Elijo Hills home. "We love living here. We take Wyatt to school in the morning (when we're not in quarantine), and we visit with the other moms and families. It's a great community. Then, I hop in the truck and head to the barn. I can be at work in minutes."
Emily says it's a good life. "I'm so lucky. Every day I get to combine two things I love–riding and teaching." Emily, however, confesses it hasn't always been easy. When asked what has been her boldest move in business, she replied, "Starting! Growing up riding horses in Encinitas and Rancho Santa Fe introduced me to a lot of people. I had a great resume and a network. I could have gone anywhere in the world to work for someone else. But choosing to start my own business– that was the boldest thing I've ever done." Emily says the first 10 years were really hard. Getting a business off the ground is challenging. It's that grit, however, that Emily tapped into and, with the grace of a professional and the heart of a loving mom and wife, continues building a world class equestrian business and her own family legacy.
For more information, visit EEShowStable.com